Aligned New York
On a two-day trip to New York City in April 2018, I endeavoured to check out as many health and wellbeing-oriented cafes, restaurants, and shops as possible. Having Coeliac Disease myself everywhere I went had to have gluten free options, pretty much all of them offered vegetarian, vegan, organic, and locally-sourced options as well. Here is what I found, thought, ate, and the menu for each venue on the day I visited.
A gorgeous little cafe/restaurant and probably one of my favourites in NYC. They are open for breakfast, lunch and dinner. I had the Carob Acai bowl with extra berries and my friend, Saskia (who is always my go to for recommendations in NYC), had the Encino Man. We both really enjoyed our meals and Saskia had eaten here recently for dinner and loved it.
49 CANAL STREET, NEW YORK, NY 10002
+1-212-925-1300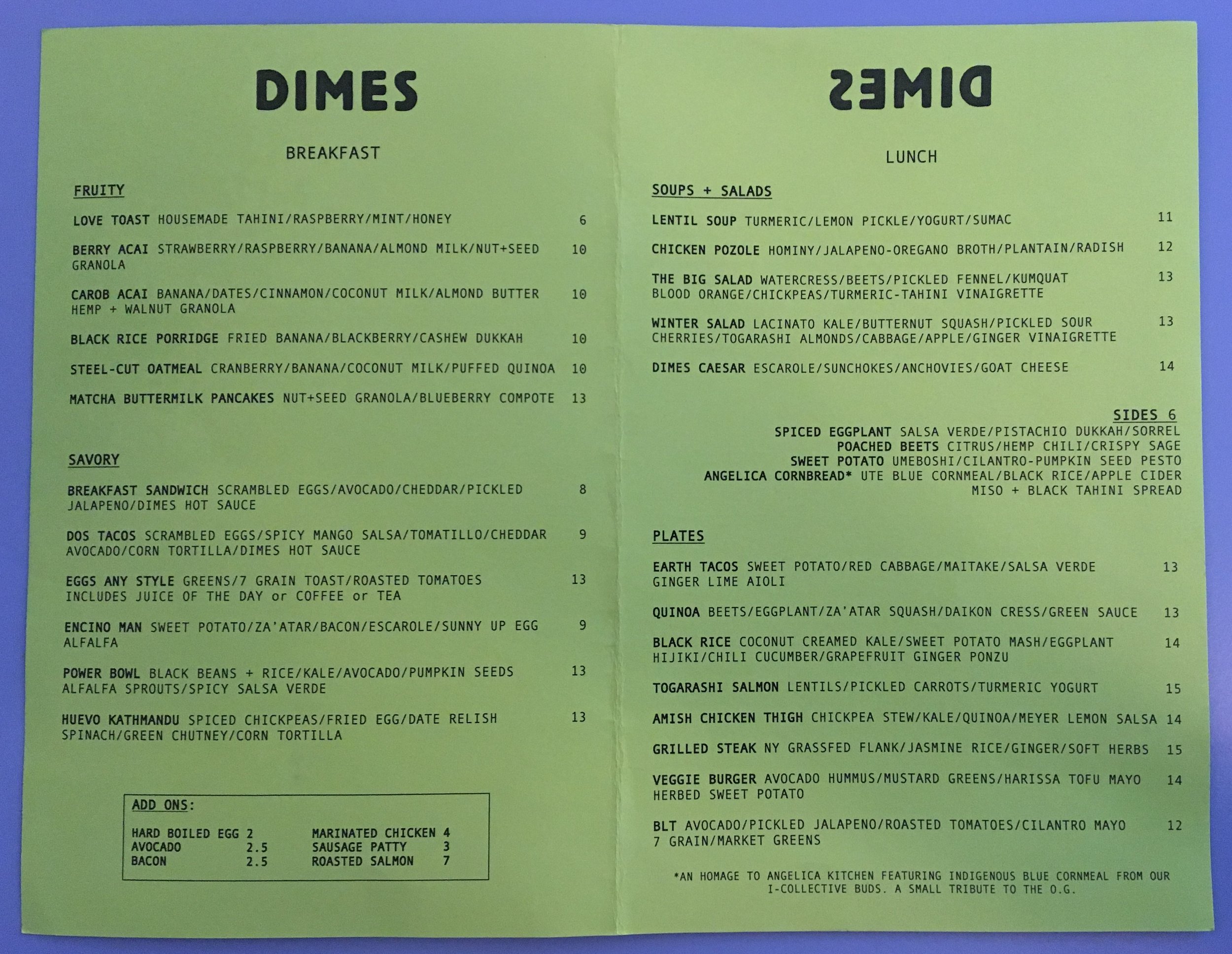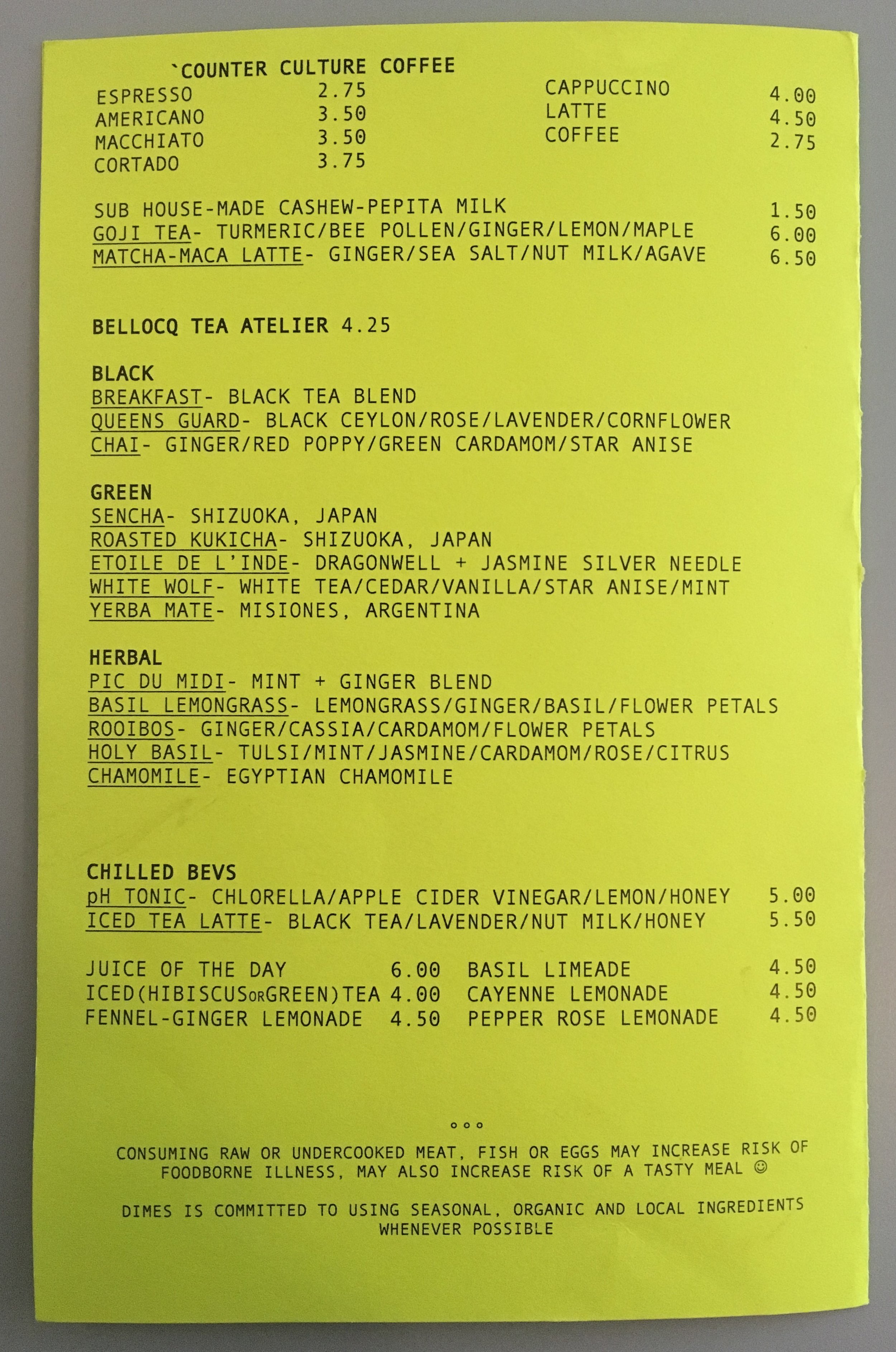 A gorgeous design space, attached to a design store, AbcV was a bit more on the expensive side but also quite tasty. It was very busy for a Friday morning when I was there -a testament to its popularity. I had the wild mushroom, poached farm eggs, shallots and herbs.
38 EAST 19th STREET, NEW YORK, NY 10003
+1-212-475-5829
As a darling on the health and wellbeing scene, I wasn't super-impressed with The Butcher's Daughter for breakfast. It was more that my serving size was quite small and not cheap. However, this could also be a symptom of the typical small size of gluten-free bread. I had the spinach egg bowl. The menu really does offer a lot in terms of vegan fare and health-oriented elixirs and dishes, just don't expect large sizes. I went to the West Village site and there is another one in Nolita and one in Venice, LA.
581 HUDSON STREET, NEW YORK, NY 10014
+1-917-388-2132
Cafe Clover & Clover Grocery
Cafe Clover and Clover Grocery are just down the street from each other. Clover Grocery has a good selection of health-related food products and they also have a smoothie/elixir bar. Cafe Clover is very popular and I only had time to get a gluten-free lavender waffle to take-away and eat on the train to Boston -it was delicious.
Cafe
10 DOWNING STREET, NEW YORK, NY 10014
+1-212-675-4350
cafeclovernyc.com
Grocery
259 SIXTH AVENUE, NEW YORK, NY 10014
+1-212-255-5383
clovergrocery.com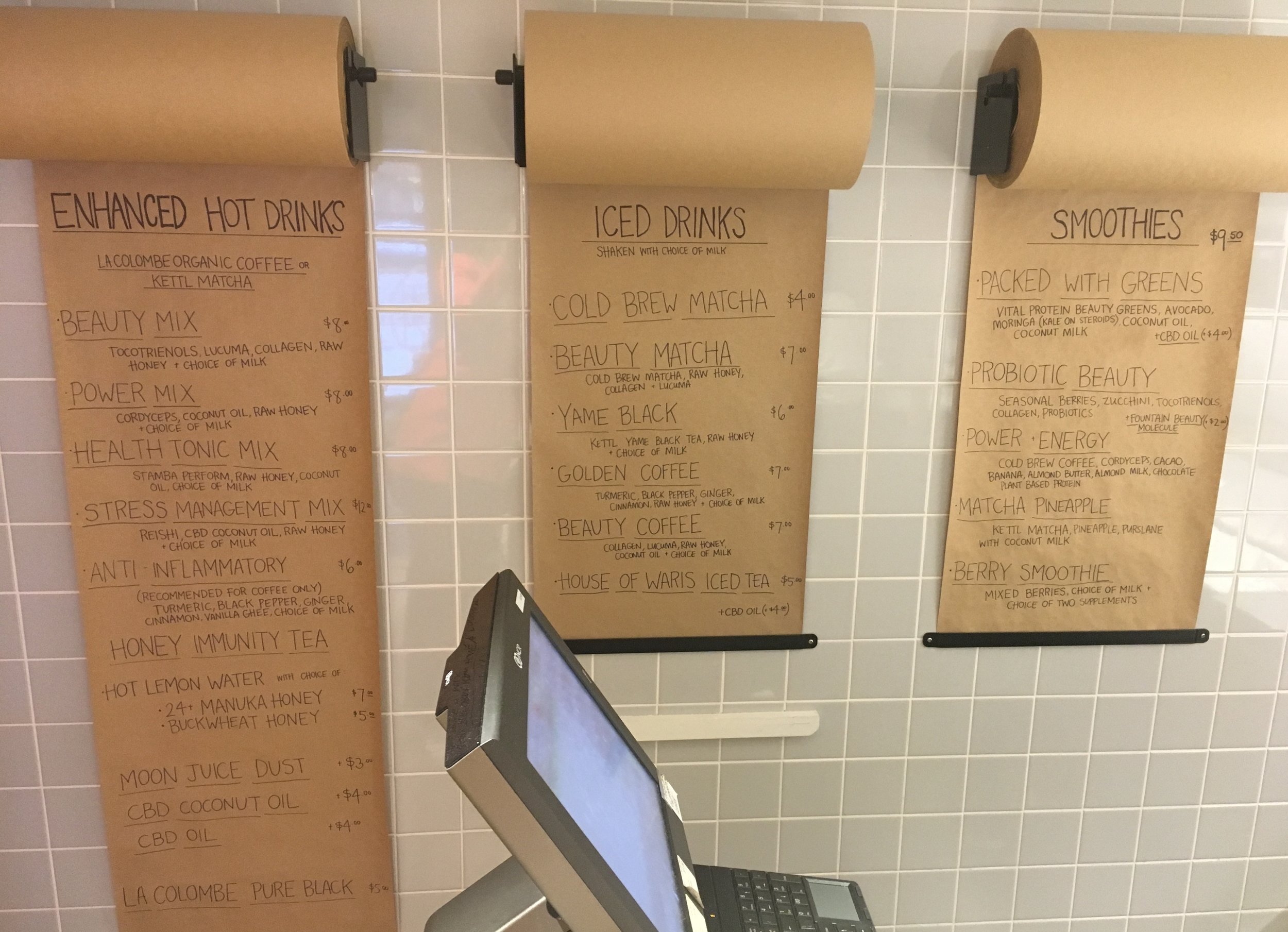 I was so excited to be catching up with friends here that I forgot to take a photo of the food! But the food was tasty. West-bourne has a west coast-inspired menu (hence the name) that they serve all day. The serving sizes were on the small side so if you are really hungry you may want to get a couple of dishes. They partner with a local non-for-profit and donate a portion of sales of all meals which is wonderful.
137 SULLIVAN STREET, NEW YORK, NY 10012
+1-347-534-3050
My friend Lucy and I really enjoyed our dinner De Maria. Table service may have been a touch on the slow side, but friendly, and the food was fantastic. We had the bread & butter (which was gluten free) and snapper ceviche as our entree and the herb chimichurri trout and heirloom carrots as our main.
19 KENMARE STREET, NEW YORK, NY 10012
+1-212-966-3058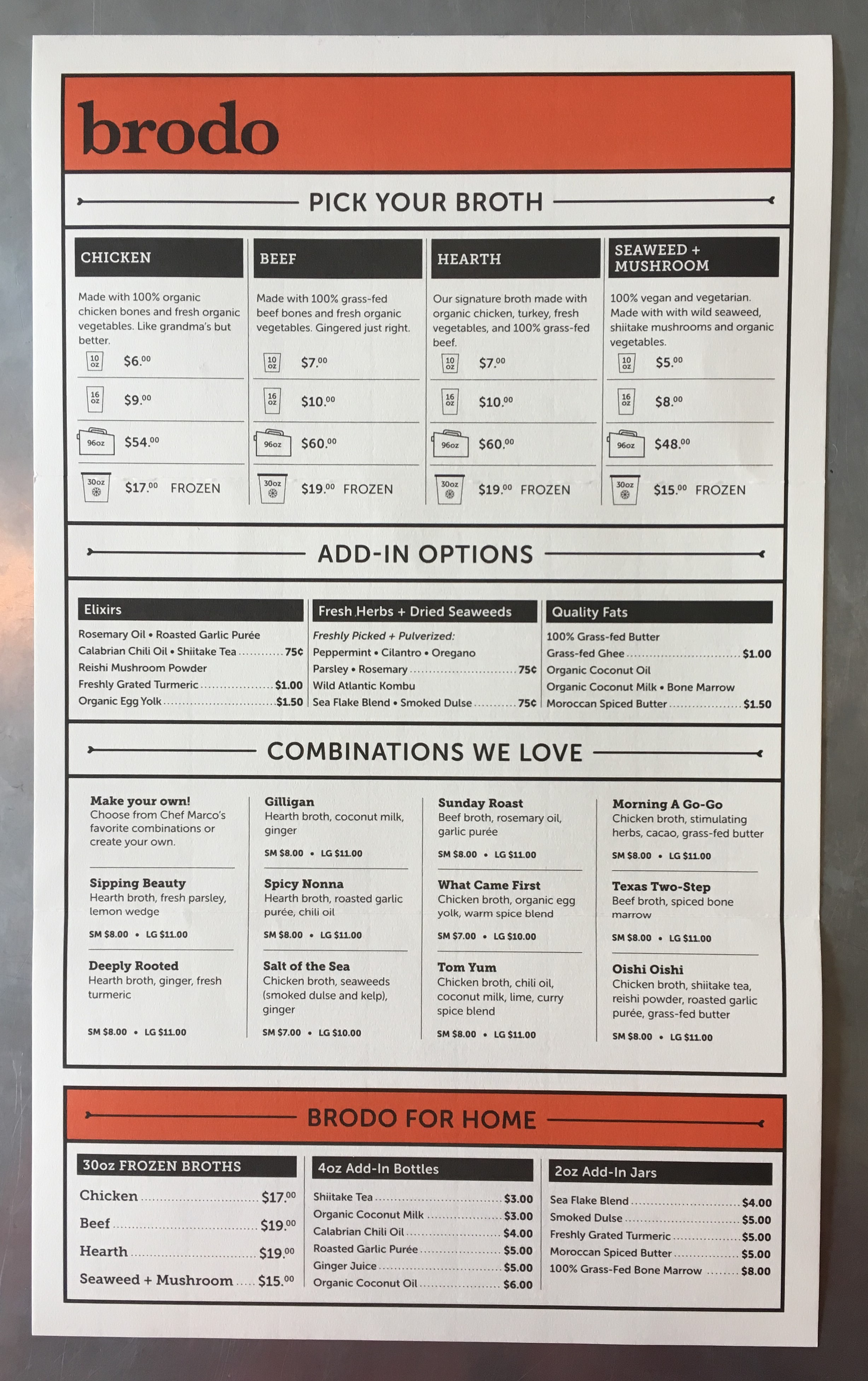 A shop that just sells broth made from 100% grass fed animals and organic vegetables -that's my kind of shop! I just happened across their west village store on my way somewhere else and had to check it out. I had the "Hearth" broth which is a mix of beef, chicken, turkey, and vegetable broth, with ghee and reishi add-ins and it was delicious. They have a couple of other shops in NYC as well.
496 HUDSON STREET, NEW YORK, NY 10014
+1-212-366-0600
Though I am not a big fan of anywhere that does a lot of pre-prepared take-away meals (because of the packaging waste created and potential loss of vitality of the food), this place did have a lot of good stuff for health-conscious and allergy-conscious people, and also prepared some of their menu on-site. I had never heard of this chain before happening across one of their cafes on East Houston Street but really enjoyed my organic spirulina green bagel with vegan cream cheese. They have a number of locations in NYC and Miami.
181 EAST HOUSTON STREET, NEW YORK, NY 10002
+1-786-334-4420
Not quite a cafe but sort of, Chillhouse offers the below menu in their small cafe area which is out the front of their beauty treatment space (mostly nails and massage). I had the spin my wheels blend and relaxed for a while.
149 ESSEX STREET, NEW YORK, NY 10002
+1-646-678-3501
The Alchemist's Kitchen is a shop full of alternative and nature-based products including a great selection of Ayurveda and herbal tonics and body products. They also have a cafe serving health-based drinks, elixirs and light meals. I enjoyed my Spirit Elixir while browsing the shop. They definitely steer towards the more alternative/spiritual/pagan/witchy side of the fence so if this is not your thing, the store may not be for you, but if it is, you'll love it. There is also a spa downstairs -Kollectiv.
21 East 1st Street New York, NY 10003
+1-212-925-1267
The Australian Set
For some reason Australia seems to have become the global authority on coffee and good breakfasts. I don't know how this has happened or why, although apparently we invented flat whites and avocado toast, two very important breakfast staples. While I wouldn't exactly class these cafes run by Australians as healthy, they all offer gluten-free and vegetarian options. They also dish up good coffee and if you are going to drink coffee, you best make it worth it with really good coffee. As a general rule when travelling anywhere in the world, if you want a decent coffee and a good breakfast, find a cafe run by Australians!
Two Hands
Here I had the salad -not the most exciting salad I've ever had and the coffee was ok -although I was having it with almond milk which is probably not a fair assessment, and it was definitely well above the general New York standard of coffee. I've heard very good things about thee banana bread here -which also happens to be gluten-free. I went to the Nolita location and they also have one in Tribeca.
164 MOTT STREET, NEW YORK, NY 10013
There are quite a few Bluestone Lanes around. I went to the west village location and had the banana bread (gluten free) and a really nice coffee. They have cafes and coffee shops in lots of locations including LA.
30 Carmine St, New York, NY 10014
+1-718-374-6858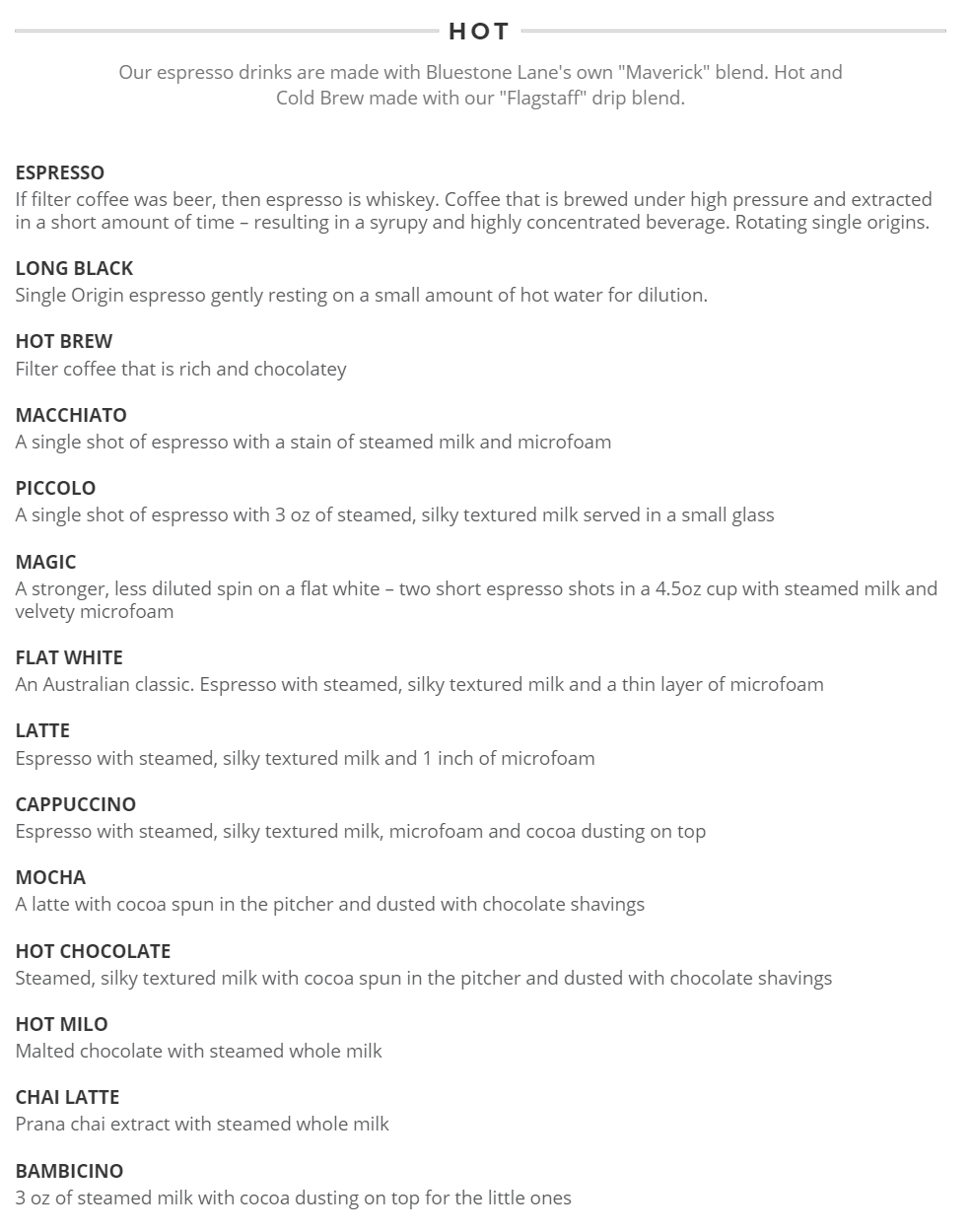 Located in Brooklyn, I really like Sweatshop. I was here a couple of years ago and was so grateful for my first decent coffee on that trip! It is also a great excuse to get to Brooklyn and explore -which I kind of prefer to Manhattan most of the time. They have a small food menu which includes a gluten free and vegan acai bowl, which is what I had.
232 METROPOLITAN AVENUE, BROOKLYN, NY 11211
+1-917-960-7232
This stretch of converted railway between West 34th Street and Gansevoort st, on the westside is fantastic. I was there soon after it first opened and I am happy to say it is less busy than it was then, but still popular. It is a wonderful walk with art, small gardens, and great views along it. Being on a converted railway line also means it is above street level and avoids all traffic lights so you don't have to constantly stop walking/running for lights.
To receive more articles like this: